This post brought to you by
Sears
. All opinions are 100% mine.
I love clothes...obviously! But I love cute and inexpensive clothes. Lately with 5 kids and no time at all I hate clothes shopping. I don't have time for it, and I get frustrated when they dont have what I want. Have you ever been to a store and LOVED an Item of clothing, but they don't have it in your size or the color you like? Guess what I just learned...Sears now has the answer and I didn't know they did this so I am pretty darn excited to tell you about it. I have bought a lot of cute clothes at Sears, but have also been frustrated that they didn't have my size or the color I liked. Sears website is way larger than the stores and carries an expanded assortment of sizes and even colors you might not even see at the store!
What is better is if you see it online, but want to wear it this weekend,
Sears
guarantees to have your item ready in 5 mins or less for you to pick up, or you'll get a $5 in store coupon. That is pretty sweet if you ask me! Order it, call the hubby and ask him to pick it up on his way home from work! Sounds like a deal to me!
In addition to having more sizes and colors online Sears
featured marketplace offers
the latest designer brands on their website than they do in stores. Brands such as Ray Ban, Michael Kors, DeWalt Tools, Steve Maden, Nike, and the list goes on. Every day Sears is adding hundreds of new styles, colors and designers to their site.
So why waste your time shopping in stores when you can check out Sears.com's expanded assortment online and then just head over to the store to pick it up...and if they don't have it in 5 MINS you get a $5 gift card. Sounds good to me!
Here are a few cute shirts I have my eye on for this summer...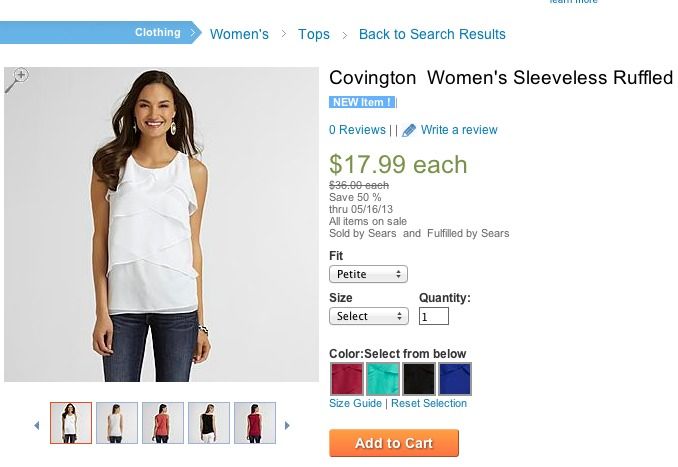 Oooh, I love the colors! Go check out Sears.com to see their
newest arrivals
daily and you won't be dissapointed! Let your friends and family also know about the great deals that are going on at Sears. Especially the 5 mins or $5 deal. Gotta run, no really, like GO RUNNING, so that I can loose some baby weight and get into some cute clothes this summer!
Have a great weekend!